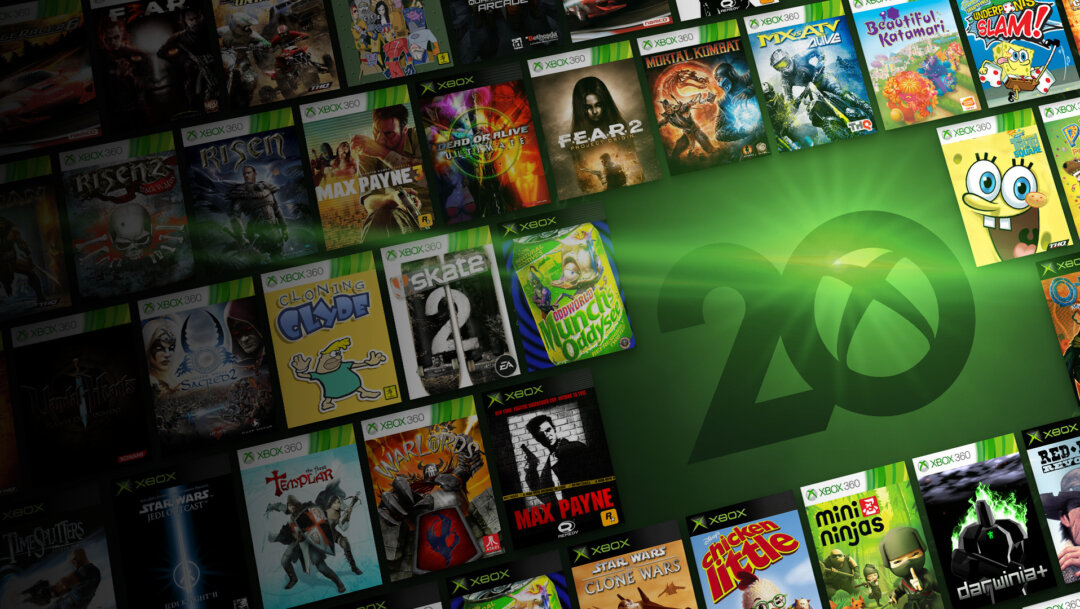 Parece que fue ayer cuando Microsoft lanzaba al mundo su primera consola de sobremesa, pero han pasado ni más ni menos que 20 años. Xbox celebra su aniversario y lo hace con un pequeño evento homenajeando sus dos décadas en el mercado con momentos memorables y juegos que han marcado varias generaciones.
Su pilar fundamental son los usuarios y nos han querido dar las gracias con varias novedades y regalos. El primero se centra es uno de sus fuertes, la retrocompatibilidad. La compañía suma a su catálogo ni más ni menos que 70 juegos con mejoras para la nueva generación.
Todos estos títulos ya están disponibles:
50 Cent: Blood on the Sand
Aces of the Galaxy
Advent Rising
Adventure Time: The Secret of the Nameless Kingdom
Are You Smarter Than a 5th Grader? Make the Grade
Avatar: The Last Airbender – The Burning Earth
Bankshot Billiards 2
Beautiful Katamari
Binary Domain
Black College Football Xperience: Doug Williams Ed
Cloning Clyde
Conan
Darwinia+
Dead or Alive Ultimate
Dead or Alive 3
Dead or Alive 4
Death by Cube
Disney Universe
Disney's Chicken Little
Elements of Destruction
F.E.A.R.
F.E.A.R. 2: Project Origin
F.E.A.R. 3
F.E.A.R. Files
The First Templar
Gladius
Gunvalkyrie
Islands of Wakfu
Lego The Lord of the Rings
Manhunt
Max Payne
Max Payne 2: The Fall of Max Payne
Max Payne 3
Mini Ninjas
Mortal Kombat
Mortal Kombat vs. DC Universe
MX vs. ATV Alive
MX vs. ATV Untamed
NIER
Novadrome
Oddworld: Munch's Oddysee
Onechanbara: Bikini Samurai Squad
Otogi: Myth of Demons
Otogi 2: Immortal Warriors
The Outfit
Outpost Kaloki X
Quake Arena Arcade
R.A.W. – Realms of Ancient War
Red Dead Revolver
Resident Evil: Operation Raccoon City
Ridge Racer 6
Rio
Risen
Risen 2: Dark Waters
Rock of Ages
Sacred 2: Fallen Angel
Scramble
Screwjumper!
Secret Weapons Over Normandy
Skate 2
SpongeBob SquarePants Underpants Slam!
SpongeBob's Truth or Square
Star Wars Starfighter: Special Edition
Star Wars: Episode III Revenge of the Sith
Star Wars: The Clone Wars
Star Wars Jedi Knight II: Jedi Outcast
Switchball
Thrillville
Thrillville: Off the Rails
Time Pilot
TimeSplitters 2
TimeSplitters: Future Perfect
Toy Story Mania!
Vandal Hearts: Flames of Judgment
Viva Piñata: Party Animals
Warlords
Pero eso no es todo. De golpe y porrazo nos anuncian que el multijugador del nuevo Halo Infinite también está disponible y parece ser que ha sido un éxito total. Ayer, se llegaron a sumar 200.000 jugadores recurrentes. La primera temporada durará hasta mayo de 2022, aunque a partir de ese momento hay planes para iniciar las siguientes en los próximos meses. Y por si os lo preguntáis, sí, es totalmente gratuito y se puede descargar ya mismo sin necesidad de tener reservado el juego.
«Mientras nos preparamos para un aumento significativo de los jugadores que darán el salto a Halo Infinite el 8 de diciembre, queríamos asegurarnos de que todos los sistemas funcionaban bien».
Y para terminar, os dejamos con un pequeño teaser de la esperada serie de Halo que emitirá Paramount + en los próximos meses cuando finalmente aterrice en España (este servicio ya está disponible en EE.UU. desde principios de año). Con estos segundos podemos ver que no va nada mal encaminada.
¡FELIZ ANIVERSARIO XBOX! Por muchos años más.